---
Posted by BOBBY RAYFIELD on
This is a killer compilation and is a top notch representation of a band having a great time. From start to finish, these songs really showcase what the band accomplished before the wave of fame swept them away in an unforeseen sea change of pop culture. That is not a negative statement, by the way. It's simply the facts. Like it or not, there is a footnote in history signifying the before and after of Nirvana. 
---
Posted by BOBBY RAYFIELD on
Where we previously discussed the Pixies and things already plastered all over the internet, it is known that Kurt Cobain was also a Pixies fan like the rest of us. It is worth noting, this album lands in the same timeline as Doolittle. Where history may report it as Nirvana taking a page from the Pixies to create their sound, reality does not give much time to consume, influence, write and record. Maybe it carried over into a later era for Nirvana but Bleach was likely well on its way to existence in parallel with Doolittle/Bleach. Something to consider. I'm open to further discussion.  
---
Posted by BOBBY RAYFIELD on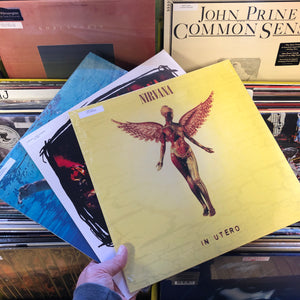 Let's Talk About...  Nirvana - Nevermind + Unplugged + In Utero LP Anyone who was around to experience it can agree that Nirvana changed the music world overnight. Of course we can attribute the groundwork to many who came before like the Pixies or Melvins. Admitting to a sea change is never intended to overshadow the pioneers who led us to that point. Even the band would admit to a bit of imposter syndrome. It can and did happen to them. They became superstars. They wrote and recorded some of the greatest records of the time and the world took note. How could we argue that fact? It certainly did not resonate with everyone but it...