---
Posted by BOBBY RAYFIELD on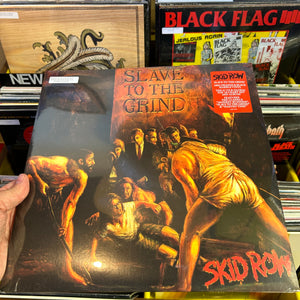 Last week we discussed the pure joy the self titled album delivers to me. This week we are fortunate to have a reissue of the follow up in stock and it is jam packed with some of the greatest songs and vocal performance from the genre in whole. Heavy, blues based rock riffs, soulful and emotional spine tingling moments and untouchable vocal deliveries all around. This record belongs in a hall of fame somewhere. 
---
Posted by BOBBY RAYFIELD on
All you need to do to watch me light up like a preteen hopped up on sugar is fire up the self titled Skid Row album. Most folks are familiar with the big radio hits, which are still A+ material, but what many never consider is the format of the album. The breakthrough hit is the B-side opener and it's toward the end of Side A before you hear anything ever featured on MTV. This probably helped secure my repeat listening because I'm committed by the time those MTV hits start bleeding through the speakers. Side note: All of those MTV hits are killers.