---
Posted by BOBBY RAYFIELD on
Let's Talk About...  Misfits - Legacy of Brutality LP  This album cover has always felt iconic to me. An aspect that probably sent shock waves of fear into parents who caught a glimpse of it. However, this compilation album has also always seemed a bit mellow because it does not feature anything from Earth A.D. In fact, it's mostly the Static Age era material. It still packs all of the great elements we love about the band but also mixes in some tasty vocal deliveries that are truly magic. In my opinion, this is where many a kid born in the late 70's heard the seed of the Danzig solo career...
---
Posted by BOBBY RAYFIELD on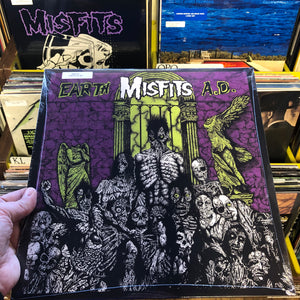 Let's Talk About...  Misfits - Earth A.D. LP  Halloween continues to creep closer so there's no better time to feature a Misfits. This album cover of creeps and ghouls is perfect. If I had to pick one Misfits record and set aside the rest, which is an impossible task that is unnecessary, Earth A.D. would be the one for me. It's faster than the previous releases, seems a little bit more angry and still maintains all of the classic lyric hooks with less of a pop edge to it. This does not discredit the thing Misfits were so gifted for doing. It's...