---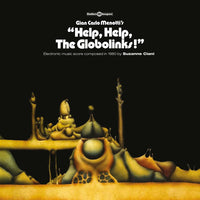 Sale
https://suzanneciani.bandcamp.com/album/help-help-the-globolinks 
As faithful guardians of the Ciani Musica Inc. studio vault Finders Keepers Records twist the key and return to their collaborative series of previously unreleased music from one of the most important and influential composers in the history of multi-disciplinary electronic music. Open-minded, unpretentious, enigmatic and consistently inspiring, Suzanne Elizabeth Ciani would shatter the mould and invert the stereotype of electronic composers in the early 1970s with a bona fide education in classical music, a clear understanding of technology and a genuine will to communicate and naturalise electronic music.

All of these unique attributes, coupled with her natural charm and generosity, would win her success and notoriety in the colliding worlds of art, film, advertising, theatre, dance and eventually popular recorded music in the latter part of the 21st century – a multifarious achievement which remained unrivalled by any of her contemporaries, regardless of gender, conquering many male-dominated platforms and breaking creative ground in the process. It is exactly these key factors that would form the basis for this multifaceted musical project that is stored within the grooves of the record you are now holding. This electronic soundtrack for an operatic, ecological, scholastic, science fiction theatre production for children of all ages not only further reveals Suzanne's vibrant and versatile skills as an experimental musician and narrative sound designer but also highlights her European heritage - working to the script of Milanese librettist Gian Carlo Menotti and a cast of forward-thinking fellow Italian-American creatives (including Giorgio Armani and Fiorucci in the wardrobe department). Originally written and performed in 1968, and gaining worldwide acclaim throughout the 1970s, Gian Carlo Menotti would update and revise his play for the turn of the 80s which called for a new approach to the music and sound effects - all of which would make their world premier in New York high school theatres in April of 1980. "I was honoured to have been selected to create a new electronic score for Gian Carlo Menotti's opera for children," Suzanne told Finders Keepers. "The original production had been in 1968 and I felt that the electronic music component could be more playful and less abrasive than the original production." For this task Suzanne would approach the brief with the same zeal and tenacity that she continues to apply to all her work by reinventing the process, challenging convention and supplying the audience with something they have never experienced before. For Help, Help The Globolinks Ciani would give Menotti's well-travelled aliens a brand new voice and with reinvention she communicated with a young audience keen to hear the genuine sounds of the future while retaining melodicism and personality quite potentially overshadowing the "human" casts exceptional abilities and challenging the director's and writer's authority in true Ciani style: "I recall meeting with Maestro Menotti at his home in New York City," recalls Suzanne. "Later I was told that he was upset by the size of my credit on the poster."

Unlike many successful electronic composers, Suzanne, as a serious and genuinely revolutionary artist, managed to evade the obvious typecasting of her music through the medium of shlock sci-fi cinema (Swiss composer Bruno Spoerri readily observes that all the best space film scores veered from this pairing) but within the realms of opera and education Suzanne found her perfect channel (scratching her other cosmic cinematic itches with android music in The Stepford Wives and as "the first female composer to score a major Hollywood movie" with The Incredible Shrinking Woman release one year after The Globolinks redux debut). Furnishing a plot of an ecological alien intervention worthy of a Magma youth starter pack and realigning early pioneering electronic operas such as Karl-Birger Blomdahl's Aniara or Remi Gassman's Electronics for family consumption, this virtually undocumented work by the hardest working woman in VCO business is finally preserved after just a handful of exclusive theatrical airings over 35 years ago. Having honed her craft in the close company of late synthesiser designer Don Buchla (a company of whose development she played a key role) it is plain to see how the young Suzanne Ciani combined roles as an abstract artist and an astute technician in equal measures, a rare duplicity which would be essential The Globolinks and all our musical quests for a brighter future.