---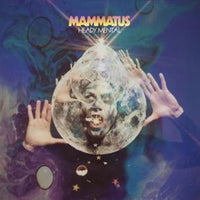 If you've seen mammatus clouds in person, you probably noticed the way those massive formations hang heavy like wilting and bulbous gray-blue sacs, bubbling from heaven towards us. Curiously, as monstrous as they look, these gentle giants are not portents of a storm; they cradle the sky, high above where they belong. How can something so heavy float? 
If you've seen Mammatus the band in concert, you probably noticed how visual their sound is. Guitarist Nicholas Emmert sports a one-piece full-body flight-suit, bassist Chris Freels dons a space cape, and drummer Aaron Emmert steers the ship, staring straight ahead with flashing laser eyewear. The homespun wizard-cum-trippy-dad-at-a-campfire look that they've adopted softens the blow of the heavy aural trickery afoot. 
Heady Mental is the perfect title for the third Mammatus album, for it rests heavily in the moldy caverns of heavy metal history, but doesn't get too comfortable before revealing its true colors. This is music for flight, music for the sky, and music for the things that lie beyond. These men are searching for the source through sound. Repetitions of themes with variants spread over four separate songs that act as a whole. Heady Mental functions as a soundtrack to the Mammatus Brain: Heavy / Airy, Earth / Sky, Man / Creator, Complete and Grok'd. 
For the obligatory band reference, one could start by imaging what The Fucking Champs' IV would have sounded like if they had been more into the McLaughlin / Santana LP Love, Devotion, Surrender instead of Iron Maiden's Piece of Mind.